Profile
The Slade Group
Established in 1991under the guidance of Mr. Robert J. Peska, Slade Shipping is a full service transportation company accomplished in providing premium services at competitive rates to meet our client's needs. We have negotiated contracts with numerous ocean carriers to accommodate various trade lanes throughout the world in order to provide benefits to our clients. With personalized service, we provide careful supervision of each shipment with hands-on, experienced personnel.
Slade Shipping specializes in project cargo shipments to all worldwide destinations. Our experience and expertise include the handling of oversized cargo, time-pressing shipments and door delivery to unusual destinations.
In 2014, Slade Shipping further developed with the joining of its offices with those offices under the control of Mr. Frank T. J. Rosier- with over 35 years of logistics experience. The combination of these offices established in 1982, allowed Slade Shipping to continue to develop globally with prime coverage in the key regions it serves. With its new found global coverage and network advantages, Slade has become highly regarded for offering a comprehensive global logistics service. Optimizing operating costs and processes without impairing either the quality of service or the safety of cargoes.
Slade now operates from its offices located in the United States, Peru, Argentina, The Netherlands, Belgium, Singapore, Malaysia, China and Australia. Combining its global network of offices with a further network of trusted agents worldwide, to arrange customs clearance, door to door delivery, transshipments, imports and exports, all customs requirements and / or any special needs of our customers.
Slade has long provided quality logistics support to the most demanding of industry sectors such as Oil and Gas, Construction and over this time we have developed a mature and invaluable understanding of the often unique demands and challenges of the industries that we constantly serve. Our long and unblemished record of success is testament to that capability and specialist expertise.
Welcome to Slade, you have made the correct choice…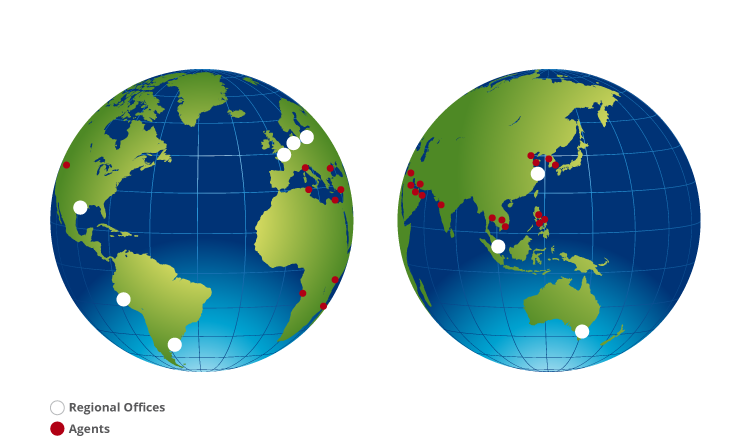 Slade Group Offices
Regional Offices
Americas
Slade Shipping Inc. (Houston)
Slade Shipping Argentina (Buenos Aires)
Slade Shipping Peru (La Molina)
Europe
Slade Shipping Netherlands BV (Rotterdam / Amsterdam)
Slade Shipping Belgium NV (Antwerp)
Agents
Vancouver (Canada)
Milan (Italy)
Constantza (Romania)
Mersin (Turkey)
Alexandria (Egypt)
Tunis (Tunisia)
Mombasa (Kenya)
Maputo (Mozambique)
Luanda (Angola)
Slade Shipping Far East / Asia
Regional Offices
Slade Shipping Far East Pte Ltd (Singapore)
Slade Shipping Singapore Pte Ltd
Slade Shipping Malaysia Sdn Bhd (Kuala Lumpur)
Slade Shipping Pty Ltd (Melbourne)
Slade Shipping Shanghai
Agents
Bandar Abbas (Iran)
Qatar
Dammam (KSA)
Dubai (UAE)
Oman
Erbil (Iraq)
Mumbai (India)
Bangkok (Thailand)
Vung Tau (Vietnam)
HCM (Vietnam)
Manila / Cebu / Ormoc (Philippines)
Busan and Incheon (Korea)
Shanghai / Tianjin / Qingdao (China)
Global Network
The network of Slade Offices, are strategically located in the major oil and gas hubs, thus enabling Slade to manage all customer requirements benefiting from our global infrastructure.
For most requirements we are able to offer door to door services under our control and guidance.
Slade has an extensive global network to sustain imports and exports. The Slade Staff are dedicated professionals who are trained to evaluate and offer the best delivery options to our customers.
Air and Ocean freight worldwide
FCL and LCL shipments
Inbound and Outbound customs clearance
Packaging and Storage
Trucking
Rail
Personal Effects
Project and Heavy Lift cargoes
Insurance cover
The Slade Group was founded in 1982 in The Netherlands and over the years, the company has progressively developed globally into a leading provider of a diverse range of logistics services within the Oil and Gas industry, under the guidance of Mr. Frank Rosier.
Our aim always, is to develop a clear vision as much forward planning as possible, with due consideration to method, routing and economy, specifically designed to suit the customer's requirements and thus confirms our prominence for delivering a service of the highest quality at all times.